Where mental health is about relationships.
A TRAINING PROGRAM THAT WORKS FOR
EVERYONE.
We believe that everyone has the ability to promote mental health, and that the key to this ability lies in the quality of our social connections. This is why our science-based training program gives you knowledge and skills for both self-care, and for wellbeing in relationships. Visit our free introduction webinar to find out more!
KNOWLEDGE AND TOOLS FOR WELLBEING
WHAT?
Learn how to use the science of stress and wellbeing with a set of practical tools and ideas for everyday life.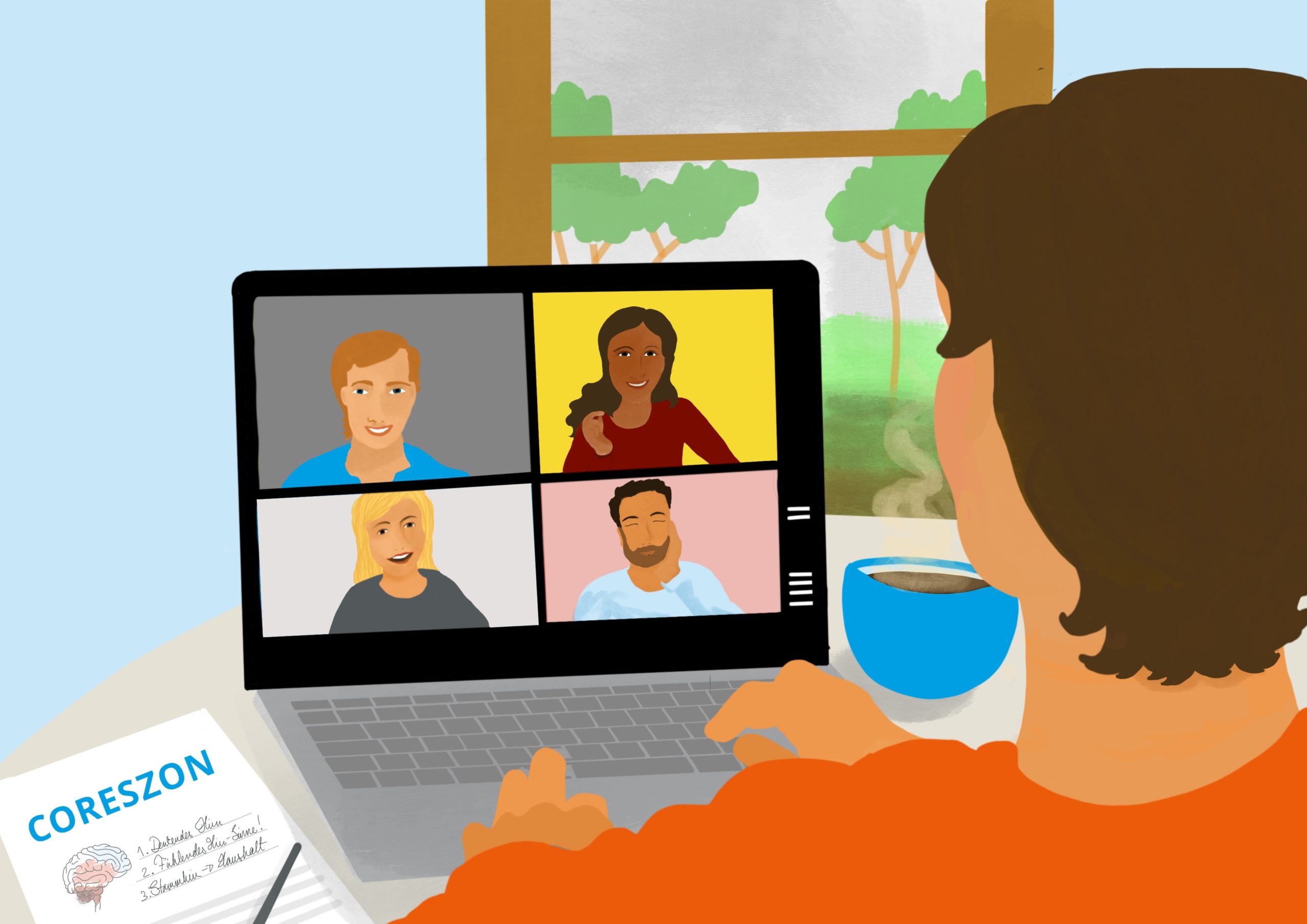 HOW?
In one of our public workshops or in an online wellbeing meet-up designed to match your community's strengths and needs.
WHY?
Because it helps wherever people depend on each other to make good things happen. At home, at work, at school & in play.
PERSONAL DEVELOPMENT SHOULDN'T BE A LUXURY
Mental health is more than the absence of illness. Equal opportunity to thrive is a human right. When it comes to improving mental health equity, bridging economic, social and cultural divides is key to sustainable change. CORESZON is a non-profit prevention program that is free of cost for families struggling to make ends meet. This is made possible by those of us who can afford to invest in wellbeing and pay an income-based training fee.  
CORESZON stands for COMMUNITY RESILIENCE NETWORK, a nonprofit capacity-building program based at the University Medical Center Hamburg-Eppendorf (UKE) in Germany. Our goal is to improve mental health equity by building a network of trainers who share knowledge and tools for social and mental wellbeing from peer to peer. 
90 MINUTES WELL SPENT
Get to know CORESZON and take away three helpful tools for everyday life in our free, live introduction webinar.
RESILIENCE: OUR ABILITY TO CARE FOR OURSELVES
AND EACH OTHER IN DIFFICULT TIMES.
Resilience describes an ability that everyone has. The ability to maintain wellbeing under difficult conditions, or to recover well when hard times have passed. What makes us resilient? Research with people who have dealt with hardship has shown that it's about much more than personal strength or weakness: our relationships and our environment are key.
This is why our training program focuses on strengthening resilience in relationships. Wherever people depend on each other – for example at work, in neighborhoods, and especially in families. 
Everyone has someone close by who can share helpful knowledge and tools in difficult times.
Translate and share current science for everyday use. Build a network of trainers to make it as accessible as possible.
Resilience training for individuals and communities – friends, families, teams and organizations.
Join our endeavor to share knowledge and tools for a kinder, more just and more connected society! CORESZON is a non-profit organization committed to improving mental health equity with a sustainable, science-driven approach. You can help grow the Community Resilience Network as a donor, a volunteer or as a cooperation partner.
ASKING FOR HELP
IS A SIGN OF STRENGTH!
If you or someone you know is struggling, please remember that asking for help is a sign of strength! Even though it can be difficult, just telling someone that you are having a hard time can already make a difference. And asking someone how they're really doing and letting them know that they matter can be just what they need.
Our goal as a mental health education and capacity-building program is to share knowledge and tools that help buffer the impact of stress overload and strengthen resilience. The contents of our workshops are not equivalent to professional advice or care, and are not provided within the University of Hamburg Medical Center's care mandate.  If there are no mental health care services in your area, please turn to someone in your community who can offer support, or help you get professional advice.
For information and support accessing online or telephone support in English, we recommend Mind's website
Even before the Covid 19 pandemic, one in four people per year were affected by mental health problems. According to worldwide estimates, the mental health crisis is set to cost the world economy $16 trillion by 2030, with 12 billion days of lost productivity due to anxiety and depression. Poverty and other socioeconomic stressors significantly increase our risk of mental illness. The impact of mental health inequity on our collective future calls for a sustainable, whole-society approach to solving the mental health crisis.
A WHOLE-SOCIETY APPROACH
The Community Resilience Network shares knowledge, skills and resources to promote mental health across cultural and economic divides. Our program is free of cost for families who are struggling to make ends meet. Those of us who can afford to invest in wellbeing pay income-based training fees. By learning skills to promote wellbeing together, we also learn from each other about what it means to navigate adversity.
Donations and external funding go towards our work in underserved communities. For many of us, access to programs like CORESZON is restricted by socioeconomic constraints and cultural barriers. Our community-based prevention strategy relies on collaboration with citizens and professionals to improve connection, cooperation and access to the resources that facilitate community wellbeing. 
BUILDING RESILIENCE TOGETHER
How resiliently we respond to crisis is more than just a question of individual behavior and mindset. The conditions that we live, play and work together in are at least equally important. We not only all have the ability to make a positive impact on these conditions; knowing that we can have an impact fulfills a basic human need: a sense of dignity, self-efficacy and control. These are all born from experiences of mutual trust and appreciation.
Our prevention approach is designed to promote awareness for this need and to facilitate mutual trust and appreciation in our everyday interactions. At home, work, play and school, and as citizens who take responsibility for a kind, just and connected society.